LATEST HAPPENINGS AT DC&S!
AT DIVERSIFIED CONTROLS & SYSTEMS INC., WE ALWAYS HAVE SOMETHING NEW IN THE WORKS.
HERE ARE SOME OF THE THINGS WE'VE BEEN UP TO MOST RECENTLY.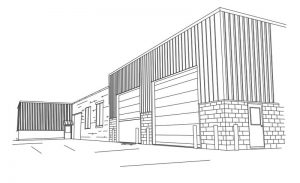 How Diversified Controls & Systems is Preparing for the Future
DC & S is on the move. A move to our new office facility, that is! Our new 1500 sq. ft. two story office is now located next to our existing manufacturing facility, allowing our Administrative Team to be in close proximity to our production floor.
The 2nd floor, we call our "Think Tank", where innovation and design come together and creative problem-solving begins. It also provides an environment for academic interns – future engineers, fabricators and technicians – to experience hands-on learning for the next generation of manufacturing, which has been D C & S commitment for 25 years.
This move has also opened-up some available space that we had previously occupied and this 13,000 SF facility is now available for lease with potential for sale. Over the years we have assisted twenty (20) start-ups by offering cost-effective lease arrangements and support, to help them succeed in their manufacturing endeavors. We also have a shovel-ready site on the same industrial park setting, with approved plans for a 30,000 SF facility, which can be customized to the right tenant or prospect.
We welcome current and future clients interested in fabrication and control systems, to visit our new facility and experience where DC&S has been, where we are now, and where we're going in the future. We also welcome small start-ups with a connection to manufacturing, interested in finding available space to take their operations to the next stage of growth. To learn more about us contact Diversified Controls and Systems at dcsjp@aol.com or 716-652-1460. ivconsys.com